Are you looking for Wheel Alignment for your vehicle?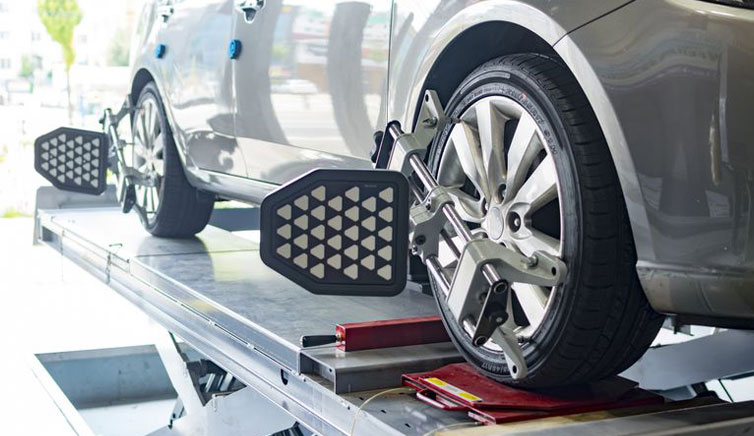 All you need to know about car wheel alignment:
What is car wheel alignment and why it is important?
Correct car wheel alignment ensures that the car is running in a straight direction and all its wheels are moving in the same direction.
Often after driving your car for a number of kilometers, like 5000 or 10,000 kilometers as specified by the car manufacturer, you might have encountered the issue of car drifting away from the straight line which otherwise should not happen. This is an ultimatum that your wheels are facing alignment issues.
Car wheel alignment depends on 5 parameters.
Note: Right alignment and good suspension and steering linkage are the key to long tyre life.
Why is it so important to have a proper car wheel alignment?
The mantra is: Good Alignment means great drivability
Imbibe this thought the first day you buy your car and trust us, your wheels and pocket will be very thankful to you. When you purchase a car, all the wheels are aligned at a set angle and there is a good reason behind it, the company's manufacturing the cars has architected each design and parts of the car with precision to ensure that it all collaborates and improves the performance of car when it hits the road.
In the case of misalignment, the tyres can suffer from unwanted wear and tear eventually affecting the smooth flow of the car leading to consumption of more fuel and what liesahead is huge bills of fuel and car maintenance. In order for you to escape future unwanted wheel alignment cost, it's important that you nip the problem at the budding stage and get the car wheel alignment tested on intervals specified by the company.
What disturbs car wheel alignment?
Reckless driving and driving on poorly maintained roads can be the prime reason for the disturbed wheel alignment. Bad roads are bad for you car's wheel alignment.
How do I get to know if my car is facing wheel alignment problem?If you encounter any of the below-mentioned conditions in your car, remember, there is something fishy with it-
Vehicle not following the straight lane
Uneven Tyre
Poor control on Tyre
Shaky Steering Wheels
Squealing Tyres
Is it time for you to check the car wheel alignment ?
While buying a car you would have been specified by the seller or the manufacturer to get the wheel alignment checked after a specific time or kilometers of drive. The car wheel alignment check is a part of car servicing which should be done without any delay.
What is the car wheel alignment price?
Well, if you don't take the right step at the right time then you will pay some hefty wheel alignment price and maintaining price, on the other hand, following routine check of the status of the wheels and its alignments you can reap the benefit of cheap wheel alignment.
There are many companies spread across the UK who provide considerable 4 wheel alignment cost and are highly professional in their work pattern.
How we help you?
Trade price tyres is a company dealing in Tyres in Newport. The company is headquartered in this part of the UK is serving the entire state owing to the closely webbed network of garages and auto service centres that offer cheap wheel alignment prices without subsidizing the quality of services. We rein in quality and hence our name strikes first when you talk about tyres in Newport.
Apart from providing car wheel alignment, we also deal in allied car services in Newport and many parts of the UK. In the tenure of 5 blooming years, we have created a mesh of people who are skilled professionals and deliver the avant-garde quality of work when it comes to wheel alignment.
Trade price tyres is synonymous with car wheel alignment Newport
When you entrust us with the responsibility to take care of your car wheel alignment then be rest assured; we deploy state of the art technology and implement the same in our work. Moreover, our wheel alignment price is also most competitive one. We are not saying that we provide cheap wheel alignment but yes our 4 wheel alignment price is pocket-friendly.
We are one of the leading car wheel alignment Newport company which is making use of Hunter Hawkeye wheel alignment technology. It is one of the most renowned and acclaimed technology to accurately check wheel alignment and bang on Trade price tyres for using this technology.
Apart from car wheel alignment you should also know about wheel balancing, when we face the problem of wobbly steering wheels, the problem arises because of the poor wheel balancing, at Trade price tyres, we ensure that the wheels of your car are well-balanced which can ease your drive on the road.
What all is included in the 4 wheel alignment cost?
As one of most renowned network of professional auto care centers and center for wheel alignment in Newport, our 4 wheel alignment cost include the following.
Hunter Hawkeye four-wheel alignment inspection
Front toe adjustment
In case there is a need for some additional charges you will be intimated about the same before our people start working on your vehicle.
We do not believe in last minute shocks to our clients and hence there are no hidden charges. The total wheel alignment cost will be intimated to you beforehand.
Happy Driving!!!